We created an immersive literature take-home experience that serves as a memorabilia and an opportunity to relive and learn more about the Meow Wolf Convergence Station post-visit. 
Timeline
April 2022 — June 2022 (8 weeks)
Collaborators


Christina Strok, Tess Dziallo, Sam Heinrich, Noelle Tobias
My role
Research, Concept Development, Product Strategy, 3D Render
Tools
Shapr3D (CAD), Procreate, Figma, Photoshop, AfterEffects
The
Override Guide
is an interactive book that allows you to experience the Convergence Station at your own pace, anywhere and anytime

. 
You can
explore hidden features and translate secret languages
using the augmented reality app,
OvAR
. It contains exclusive Meow Wolf soundtracks and information about the geniuses behind the art.
We drew inspiration from interactive books for children and the fact that Meow Wolf didn't sell artifacts that allows users to further continue learning about the storyline. Following the whimsical and retro-futuristic themes, we designed a book with augmented reality features disguised in a robust metal housing that looks like a vintage refrigerator.
Focusing on the Meow Wolf Convergence Station (Denver), we were tasked to develop an interactive user experience that bridges the physical and digital world, with the goal of driving audience engagement with the brand, further extending the storyline and content from the exhibit, driving foot traffic to the exhibits and increasing sales from the stores.
EXHIBITS
Meow Wolf exhibits are rich in content and surprises, that visitors tend to only scratch the surface of the narrative on their first visit. The unconventional layout and non-linear storyline also causes confusion and disappointment for some visitors. A one-day tour isn't enough to fully explore and experience the installations, and having only few locations makes it harder for users to visit and/or revisit, especially those who do not live in the locality.
PRODUCTS
Meow Wolf products attract inquisitive minds due to their unique and interesting features — they are often two unrelated objects combined that are simultaneously confusing and enticing.
- Field research
- Competitive Analysis
- Heuristic Evaluations
- Netnography
- User Interviews

- Visitors who want to experience Meow Wolf at their own pace and time
- Fans who haven't had the opportunity to visit the exhibits
- Memorabilia collectors
Meow Wolf fans often gather in different online communities (Reddit, Instagram, etc) to connect with fellow enthusiasts. Many have expressed their interest in the behind-the-scenes, such as the artists behind the installations, music being played at the exhibit, and the intriguing storyline.

Everyone in our team came up with as many sketches as we can as part of our collaborative brainstorm. Following the client's brand identity and keeping the project brief in mind, most of our ideas revolved around retro-futuristic objects, whimsical themes, and augmented reality.
We then created a series of visual representations such as storyboard, user flow, and journey map to convey how we imagine the user's process and experience.

We then created a series of visual representations such as storyboard, user flow, and journey map to convey how we imagine the user's process and experience.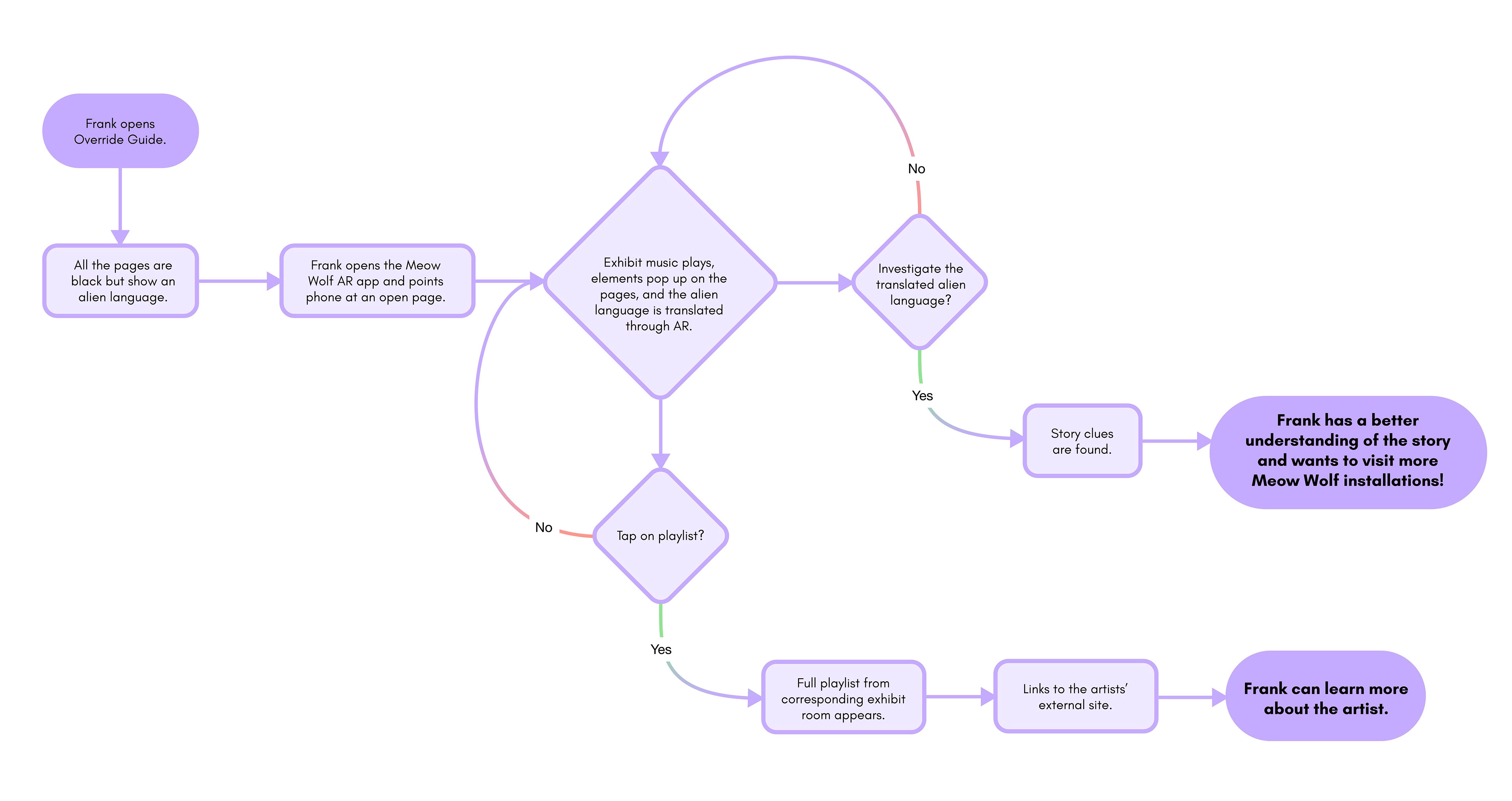 Override Guide: Physical Product Features
RETRO FRIDGE

Based on the retrofuturistic theme embodied by Meow Wolf. A fridge is also an important element prevalent with the brand.
MAGNETIC THIN STEEL PLATING

We chose this material for durability and to allow customization with magnets - just like an actual fridge!
ROBUST DESIGN

This would help for the book to be able to stand on its own so that users may be encouraged to display it on their desks or bookshelves.
MEASUREMENTS

Approximately 12" x 6" x 2.8". Each page would be made of 4mm thick card stock.
ZENION FONT

I created a usable typeface out of the Zenion language by Meow Wolf. It will be printed on each page of the book and will serve as the image marker to reveal AR elements.
OvAR: Digital Product Features
AR CAMERA

The app first lands on the AR camera page that can be used to reveal hidden art and translate the Zenion language in conjunction with the book.
ARTIST + CREW

Users can learn more about the Meow Wolf artists that are involved in the exhibits.
MUSIC

Users can listen to exclusive Meow Wolf soundtracks.
Right after the project kickoff, everyone in the team dove right into gathering qualitative research through different means. Sam conducted field research at the Omega Mart (Las Vegas), Tess interviewed her sister (who happened to live in Denver) after visiting the Convergence Station, Christina browsed the Meow Wolf subreddit community, Noelle researched the design trends that influence Meow Wolf's look and feel, and I looked into existing products and services that ties the physical and digital world. We casted our net as far and wide as we can, came together to synthesize our findings, and combined our wild ideas that solidified our concept.

Overall, I had such a great time working with Studio 22. We embraced Meow Wolf's whimsical and quirky humor, and applied it into every step of our design process. Each one of us had our own unique set of skills to offer, which made delegating of tasks a lot easier and led us to being always ahead of the due dates.
ACCESSORIZING AND CUSTOMIZATIONS

Allowing users to stick other magnets onto the Override Guide may encourage sharing of their setups with friends and the Meow Wolf community.
EXTENDING THE NARRATIVE

Creating an after-story that only those who have the product can experience.
EXCLUSIVE ITEM

Making this an exclusive item to each Meow Wolf location.
INTERCHANGEABLE CONTENT

Making the book pages removable and interchangeable will allow users to choose their own adventure, and it also nods to the idea of reusability.
GAMIFYING THE APP

To encourage users to keep coming back to use the app.