The Bodega is a food security program by Santa Monica College (SMC) that directly provides free food and other resources for students. They offer non-perishable food items, fresh produce, toiletries, and other hygiene supplies.
Timeline
October 2021
— December 2021
(8 weeks)
Collaborators
Chrissy Stevens, Miranda White, Jon San Agustin
My role


UX Research, UI Design, Video Editing
We created the Bodega Website 
—
 a centralized digital space dedicated for SMC Bodega that students can access anytime.
It would serve as the starting point where students can get information about this resource, give back to the community by volunteering, and learn about other services offered by the school that focuses on the health and wellbeing of students.
We were tasked to solve an issue around food insecurity and my team decided to focus onto SMC's Bodega.
Food security issues affect thousands of students across all colleges and universities. In 2019, 
54% of the SMC students surveyed suffer from food insecurity.
SMC Bodega is a great resource because students can directly get food items, however, the limited availability (only on Wednesdays from 11AM to 3PM) makes it inaccessible for most students. We have also found that many students are unaware or hesitant to utilize food security programs due to social stigmas.
SENSE OF AGENCY
The goal of the Bodega is to serve more students while giving them the agency to take what they need based on their own choices and priorities. 
LIMITED STAFFING

According to the Bodega staff, there is a great need in student volunteers to help out in various areas such as to speed up the service and managing inventory.
FEELING OF EMPOWERMENT

SMC Students who knew about the Bodega are thankful for being able to access free food and hygienic products immediately. Some have expressed their interest in giving back to the community by volunteering and/or donating.
BODEGA INFORMATION ON THE SMC WEBSITE

We analyzed the SMC website to learn more information about the Bodega but it wasn't clear where to find it due to the overloaded information. Additionally, when we interviewed students (while in line to be served at the Bodega), we've found that they learned about it through different channels like school emails, student community programs, and Facebook groups.
"A lot of people do not have access to it [Bodega] because they don't want to spend their time waiting." — Natalia (SMC Student)
Natalia is one of the students that was waiting in line at the Bodega that we interviewed. She has been to the Bodega a few times, and even experienced the drive-thru food pantry they had during the beginning of the pandemic. She wishes that there were more healthier options and that it was done in a farmer's market style so that more people can access it easily.
"It would be help ful to have a pool of people to volunteer. Our ultimate goal is to serve more students." — Thaddeus Phillips (SMC Bodega Staff)
Thaddeus is a Basic Needs Counselor at SMC and is one of the staff that regularly helps out at the Bodega. He gave us insightful information how they operate and acknowledged the need for efficiency.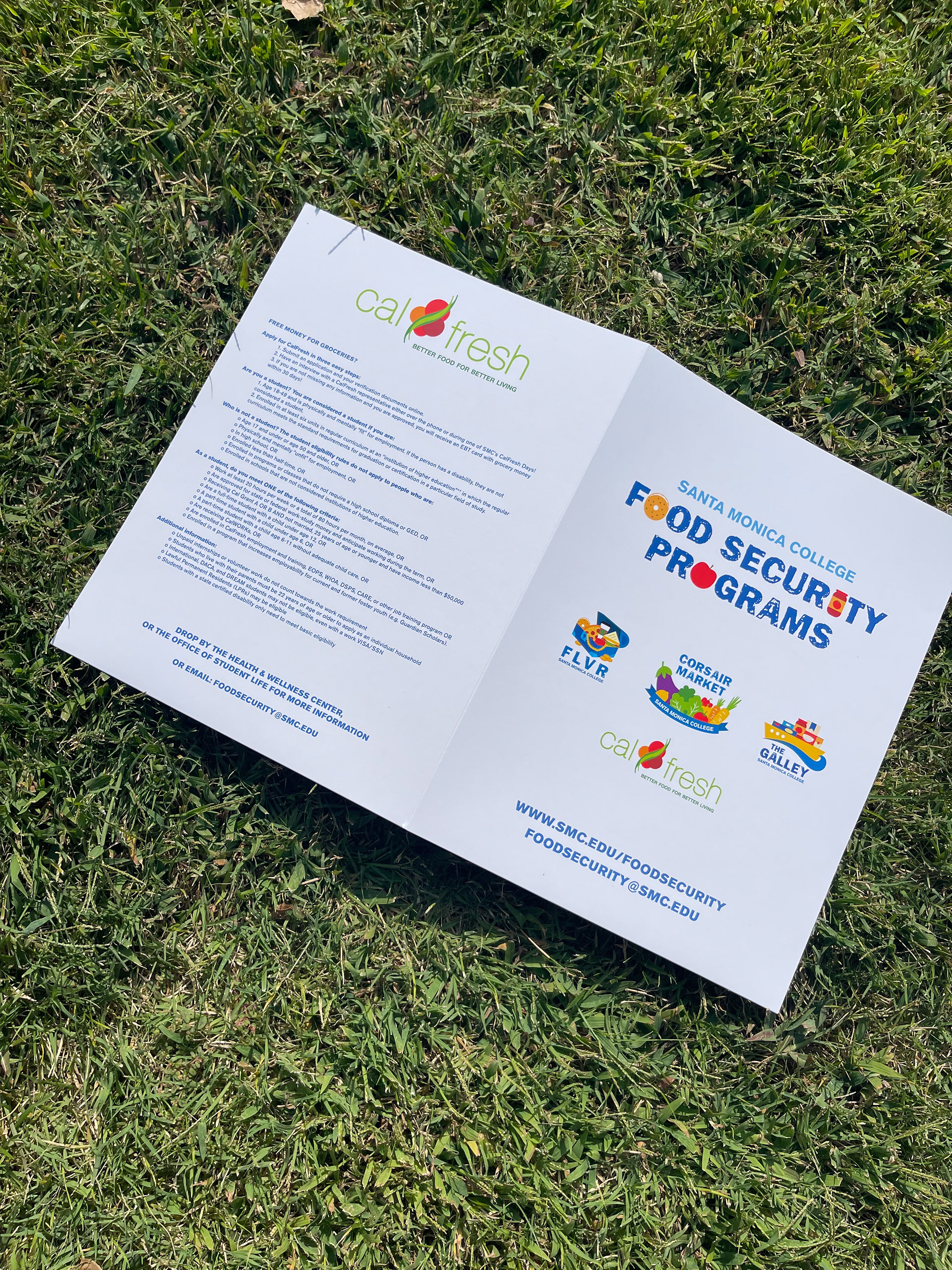 Our initial concept is to redesign the Bodega service and creating an online ordering system with the hope of helping reduce the wait time for students. However, midway through our process, we've found that this proposed solution not only overlooks the back end of the bodega, but it also would require more manpower and maintenance, which is a separate problem they already have, as well as bumping into bureaucracies issues.
​​​​​​​
Our team have then decided to pivot and narrow our focus even more. Instead, we decided to create a standalone website for the SMC Bodega in order to build awareness around the current Bodega program, empower students to get involved, and reach the ultimate goal of serving more students. These focus points led us to creating the Bodega website, which overall benefits both parties - students and staff.
During our research phase, we found so many different areas of the Bodega that can be improved. And while they all equally deserves attention, we realized that we were trying to "solve for too many problems".
Despite having limited schedule for field research and documentation due to the Bodega's narrow operating hours, as well as concept pivot which constrained our time for reiteration, I'm very proud that our team pulled through and delivered this project. I happened to work with creative members that are willing to talk and hear out each other's differences. If we decided on this concept earlier on, I would have done more interviews, especially those students who do not know about the Bodega yet. I would have also put more time on refining the look of our website.
I also learned a great deal about food insecurity and how negatively impacts different levels of our community. It is a major problem that is challenging to tackle as a whole - but I'm glad that my team collectively decide to focus on our own locality, which is the SMC community. Some of our classmates expressed their gratitude that our team chose to do this project because from this, they learned about the Bodega and got to experience it for themselves.